Free delivery in the UK on orders over £20.
Platinum Club
Sign up to join the Platinum Club and receive:
Instant £5 discount
Special Offers
New products for free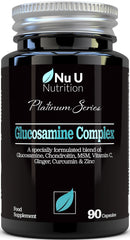 Glucosamine and Chondroitin, MSM, Vitamin C, Ginger, Turmeric Curcumin & Zinc, 90 Platinum Series Glucosamine Sulphate Capsules
Potent, Unique Blend of 7 Ingredients
Includes Glucosamine Sulphate, Chondroitin, Turmeric Curcumin & More
Platinum Range Supplementation, For Those Who Demand the Best
Win an iPad
Take a selfie with a Nu U product and you could win an iPad. Submit your email below to subscribe to the content.